Touring in Alaska Aug / Sept 2015.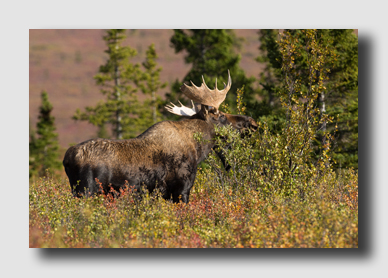 Week 1.
Wednesday 26th August.
My wife Linda and I left London Heathrow mid way through a violent summer rainstorm aboard a Delta airlines service to Seattle in Washington State,USA.
On arrival we completed immigration and checked in for a 3 hour hop up the coast and over Western Canada to Anchorage, Alaska.
After 13 hours flying and 5 hours sat in airports we were thankful to be safely settled for the night at the Coast International Inn near to Ted Stevens International airport in Anchorage.
Thursday 27th August
After breakfast we contacted the company where we had booked a motorhome for the next 19 nights and they sent out a shuttle bus to collect us.
Clippership RV had the vehicle ready for us and despite it being a bit larger than we'd booked we completed the paperwork and were heading out of their depot by mid morning.
Having been through this procedure many times before we knew that our next stops would be for fuel and groceries.
After topping up with everything we headed North for 12 miles and arrived at Eagle River Campground where I'd pre-booked a reservation for the night.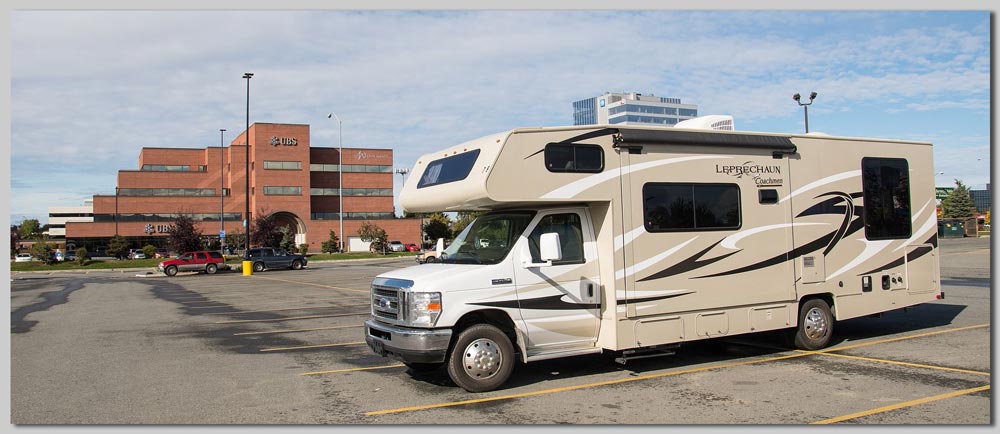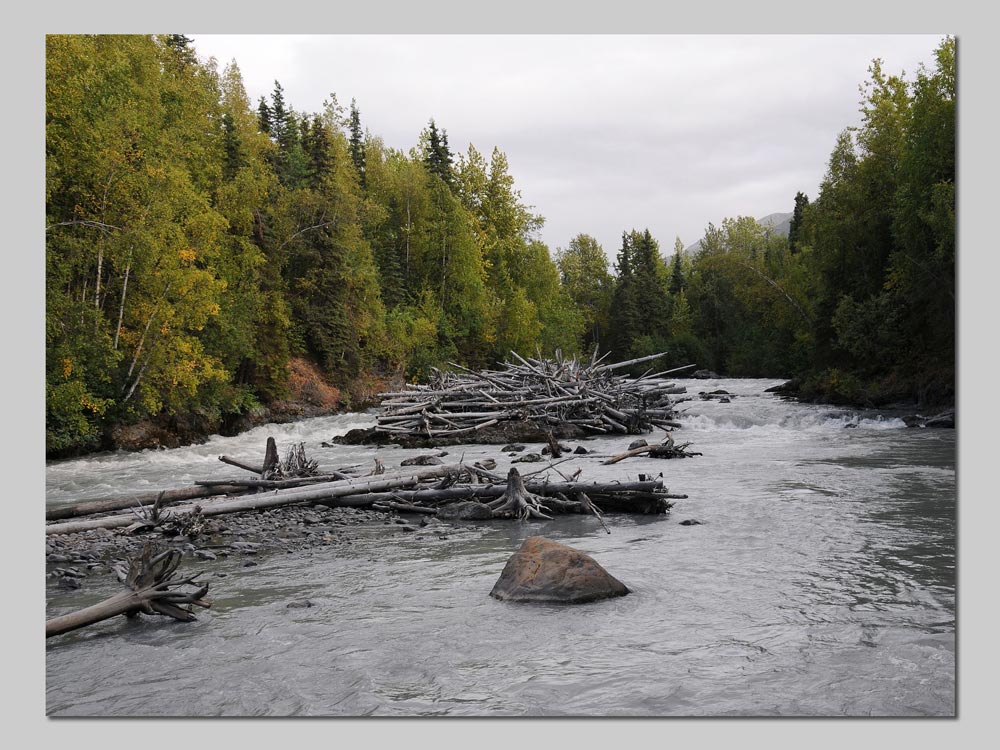 The river next to the Eagle River campground just north of Anchorage.
Friday 28th August
We headed south of Anchorage on the Seward Highway, passing along the very windy Turnagain Arm which is part of the Cook Inlet which connects the city with the Pacific ocean.
After booking in to Williwaw Campground we spent a sunny afternoon aboard the MV Ptarmigan taking a trip up the lake to the Portage Glacier.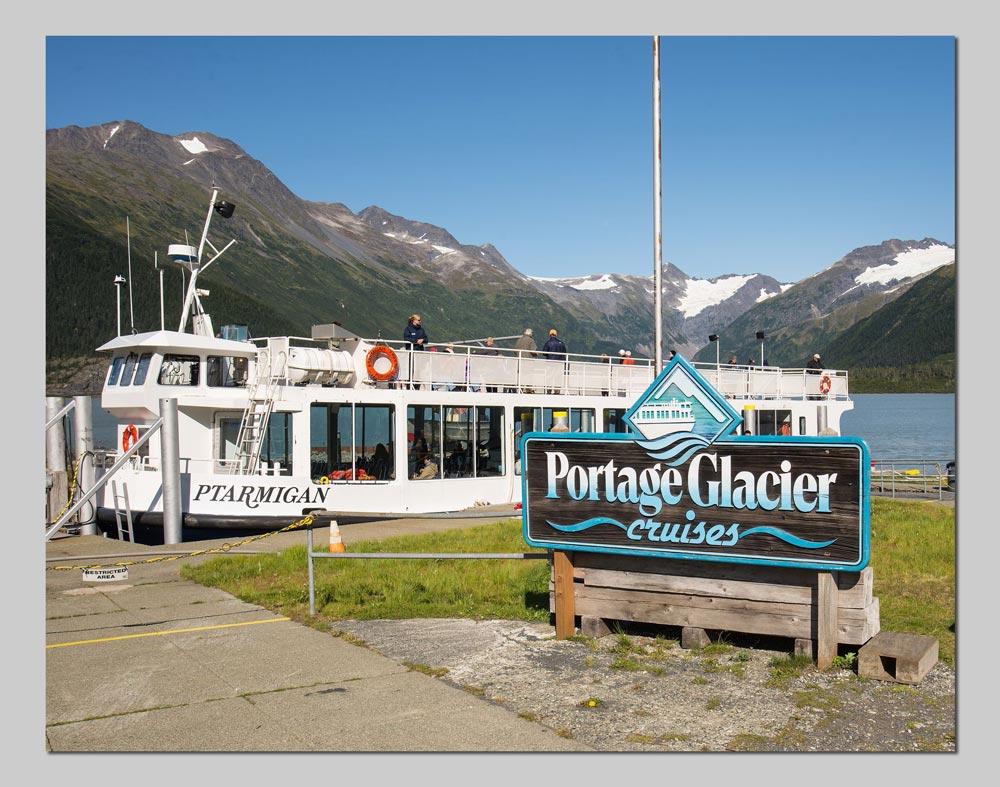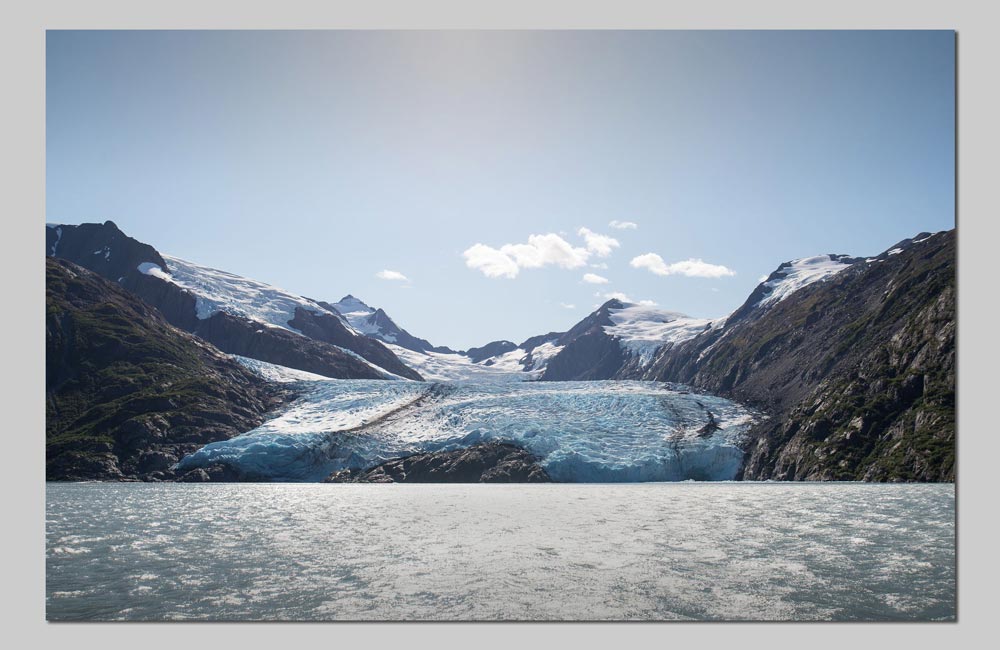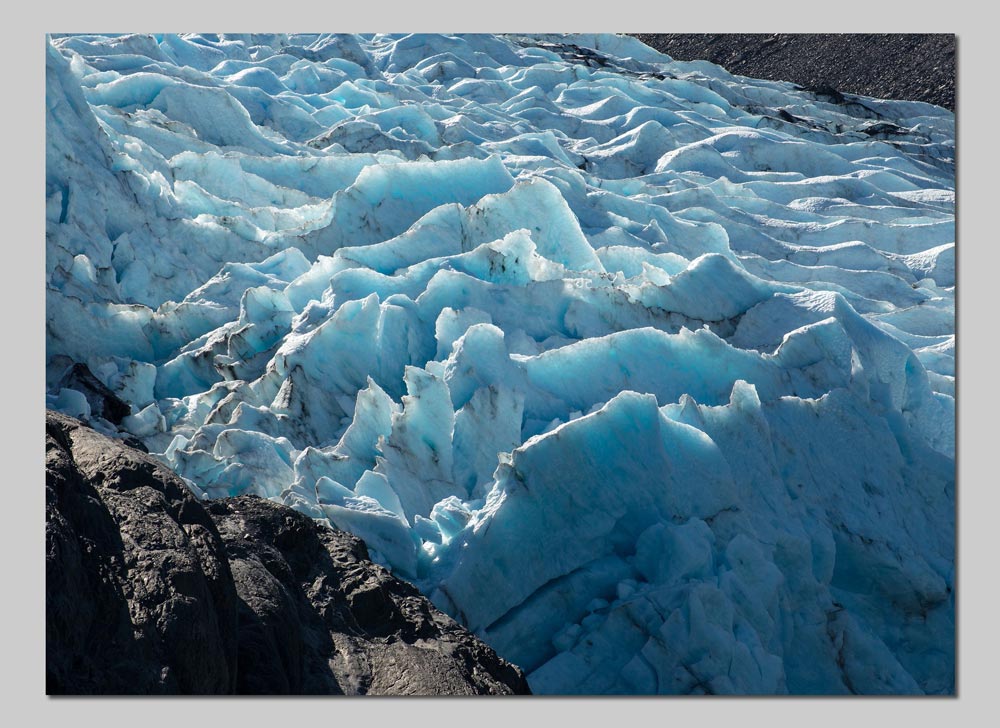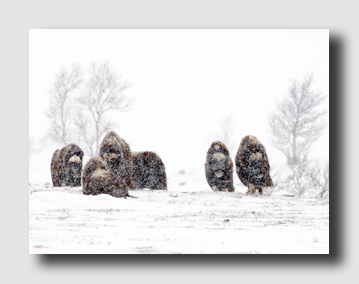 Saturday 29th August
Today was spent exploring the area around Portage, Turnagain Arm and the quirky little outpost at Hope.
It was interesting to see the Alaska State Railroad following the edge of the shore along Turnagain Arm.
Sunday 30th August
A few miles north to Girdwood to take up Linda's big birthday treat of a helicopter trip up onto a glacier combined with a dog sledding trip on the ice.
I'd booked this several weeks before coming to Alaska with Alpine Air and just in time as they were due to take the dogs off the glacier with the season ending and the dogs getting prepared for their winter racing schedule.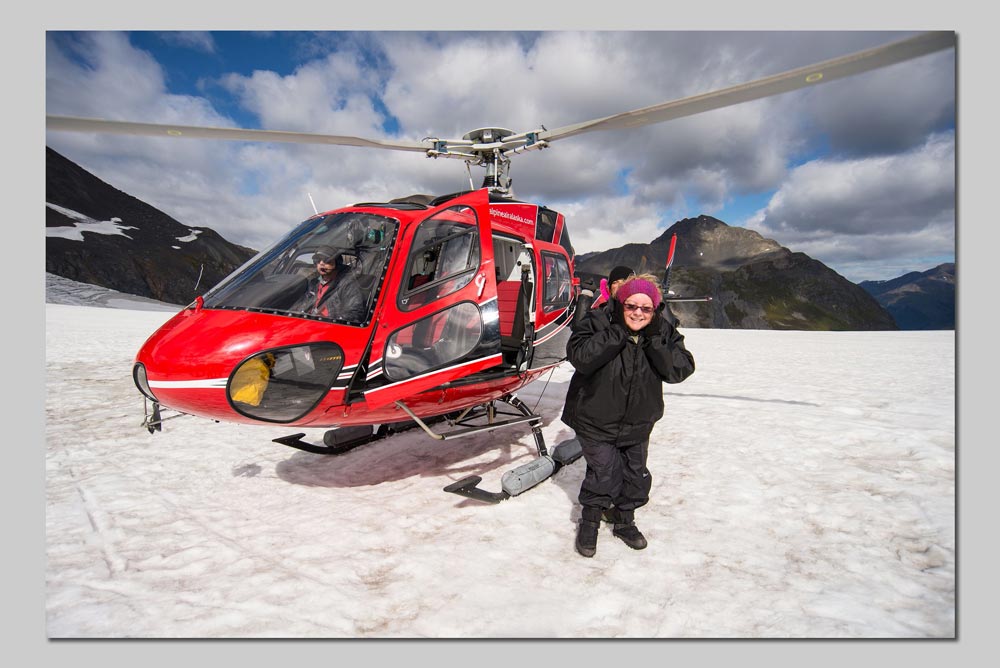 Linda getting off the helicopter on the glacier.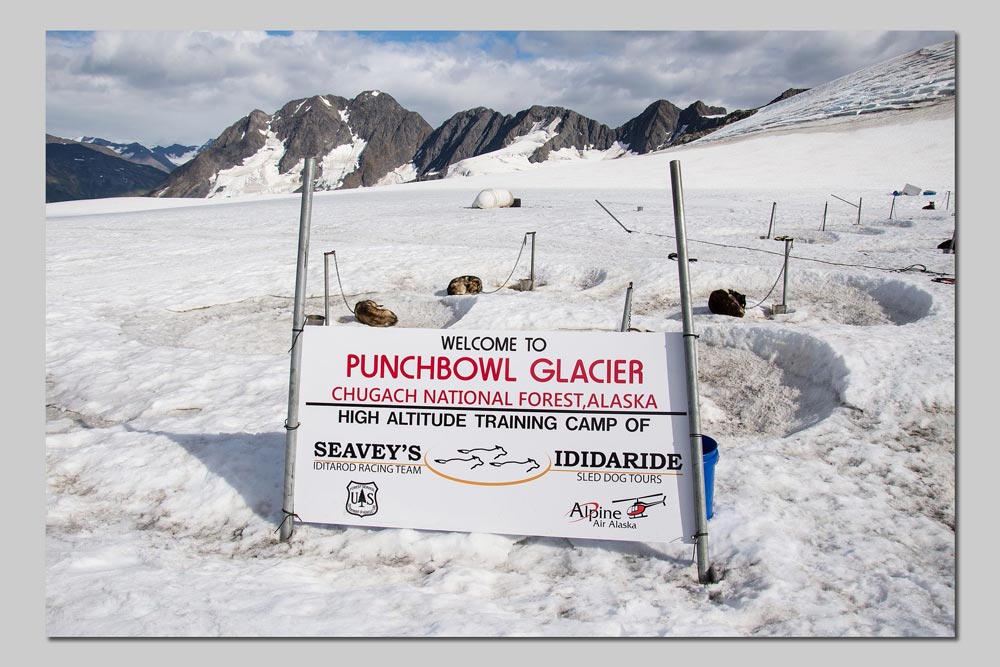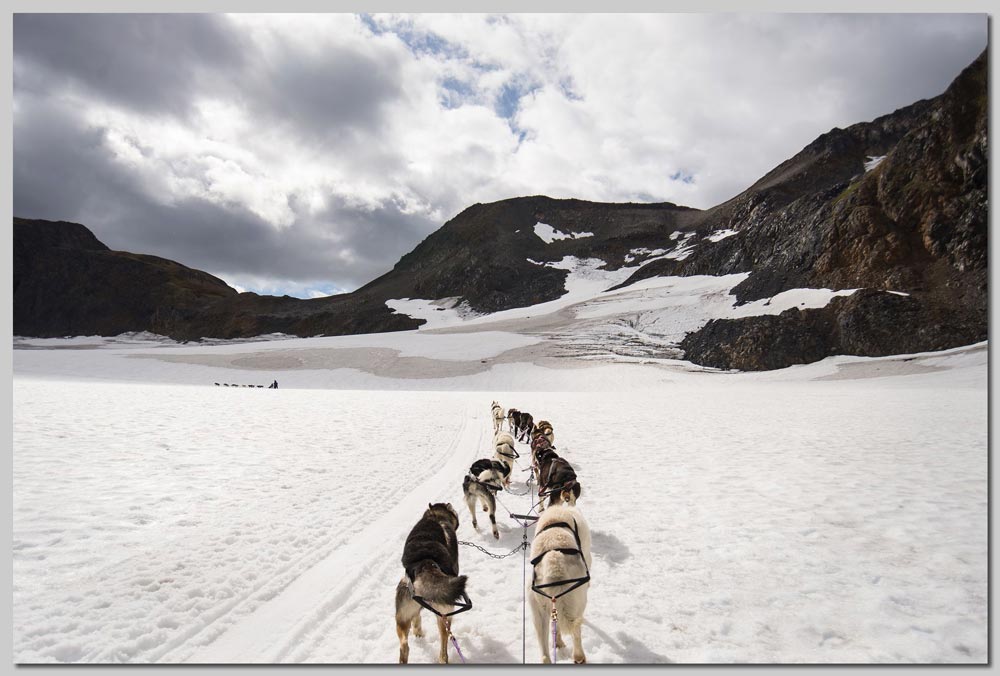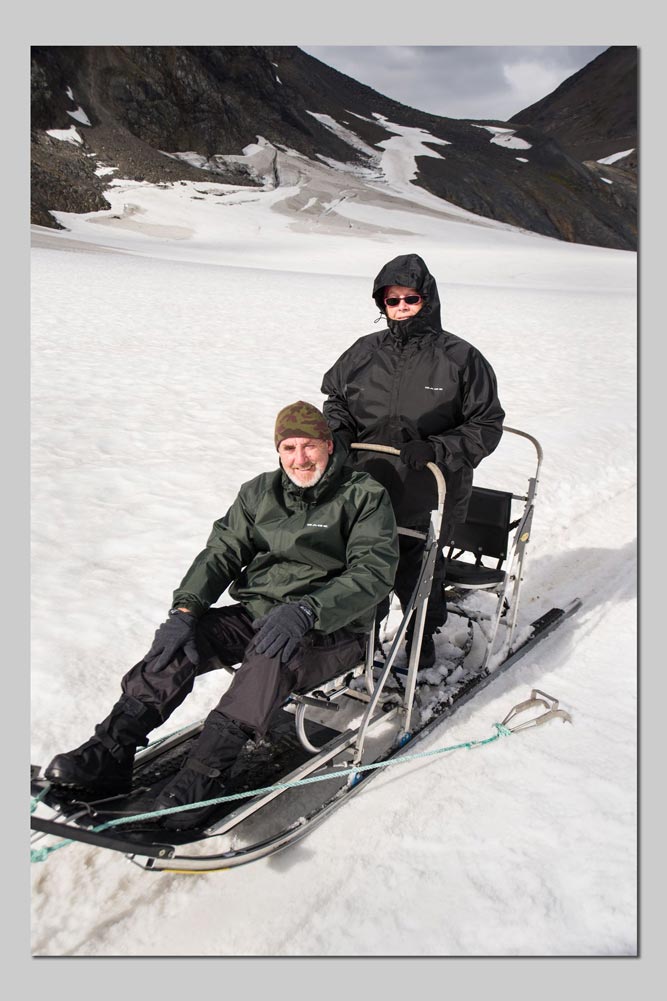 After the dog-sledding we drove south some 72 miles to Seward and booked into the Stoney Creek RV park a few miles out of town.
Full hookups on the RV and a fully equipped commercial campground, so hot showers, laundry and internet access to catch up with the outside world.
Monday 31st August
A quick hop into Seward this morning and we were fortunate in being able to book a boat trip out to Resurrection Bay in the Gulf of Alaska.
We were due to embark within minutes so sought out somewhere to leave our 28 ft motorhome and then embarked on a 5 hour scenic trip out into the sunny but cold and blustery waters of the Pacific Ocean.
Humpback whales were showing well in the waters off the fjords but they never breached out of the water despite there being several 'bait balls' of shoaling fish.
Sealions were out of the water basking on the rocks.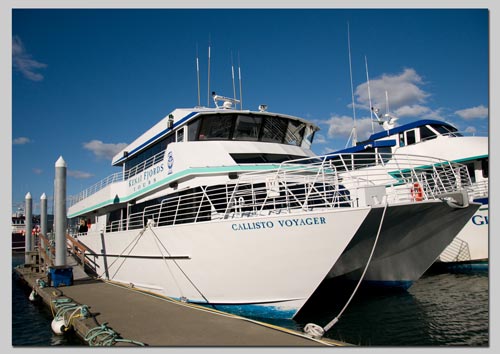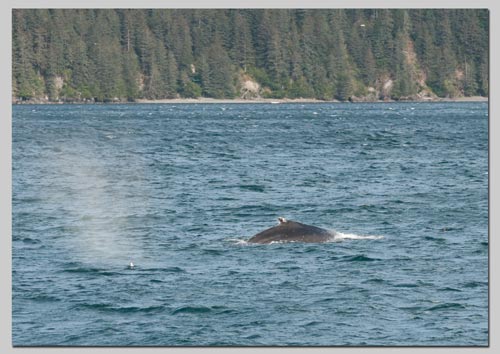 Tuesday 1st September
We were in good company this morning as we drove into Seward.
US President Barack Obama was in town and we saw the welcoming party on the roadside and also saw his "space-age" looking helicopter on the grass at the local airstrip.
We went back into Seward to visit the world renowned Alaska Sealife Centre.
It didn't disappoint and we were treated to close up views of marine birds and mammals, many of which had arrived in poor condition and were undergoing rehabilitation prior to release back into the wild.
We also saw one of the famous "wall murals" of humpback whales on a building just across the road from the Sealife Centre.
We then left Seward at mid-day and headed north toward Anchorage where we stocked up on food and fuel and decided to make a second visit to the Eagle River Campground a few miles north of the city.